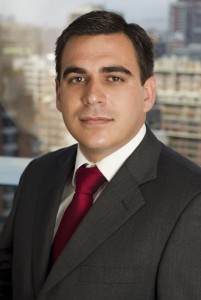 Associate
Studies
Lawyer. Universidad Central de Chile (2010) summa cum lauda.
Magister in Constitutional Law and Human Rights at the Center of Constitutional Studies from the Universidad de Talca.
Career
He joined as lawyer at Pfeffer & Asociados in 2010.
 
Secretary Chief at www.diarioconstitucional.cl 
 
Professor of Procedural Law at the Universidad Central de Chile.
 
Researcher at the Center of Constitutional and Administrative Studies from the Universidad Mayor Law School and Professor of Constitution Law in the same university.
 
Secretary–Court Reporter at the Conciliatory and Arbitral Commission of the Public Concession, Airport from Punta Arenas. He exercised the same charge at the Public Concession from the Center of Justice from Santiago. 
 
Member of the Chilean Bar Association
Author of many publications in his practice area.
Practice Area
Constitutional and Administrative Law, dispute resolution in civil, administrative and constitutional cases, arbitrations.